That is the actual‭ ‬flywheel,‭ ‬really a piece of machinery,‭ ‬which helped provide power for the first factory in Piermont more than‭ ‬100‭ ‬years ago.‭ ‬It was installed in‭ ‬1902,‭ ‬as part of a steam-driven generator,‭ ‬for the Piermont Paper Company.‭ ‬In‭ ‬1924,‭ ‬the Robert Gair Company absorbed the older outfit,‭ ‬and was later itself taken over by Continental Can.‭ The paper industry here kept chugging along until the mid-1980s when the facility, then owned by Federal Paper Board/Clevepak, was closed forever and the land sold for development.
The Flywheel wouldn't budge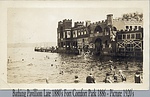 When developers of what you now see on this old railroad and factory site attempted to remove the flywheel,‭ ‬it wouldn't budge.‭ ‬They tried a wrecking ball,‭ ‬which bounced right off.‭ ‬So it was decided that the flywheel would become a permanent part of the park,‭ ‬a sort of public monument to Piermont's industrial past.‭ ‬Hence the name of the park,‭ ‬the gallery on Ash Street and our street,‭ ‬Flywheel Park West.
Robert Gair and Piermont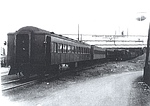 Robert Gair was born in Scotland in‭ ‬1839‭ ‬and came to the U.S.‭ ‬at the age of‭ ‬14.‭ ‬He served in the Civil War and subsequently started a small paper business in lower Manhattan in‭ ‬1864.‭ ‬This business eventually grew to be one of the country's greatest enterprises,‭ ‬covering a six block area on the Brooklyn waterfront,‭ ‬and expanding into different regions,‭ ‬including Piermont.‭ ‬Along the way,‭ ‬Gair had developed a new form of packaging after discovering a method used to cut and crease boxboard into cartons in one operation.‭ ‬His carton factory in Piermont was one of the largest,‭ ‬employing at one time up to‭ ‬1,300‭ ‬people.

Working at the Gair Plant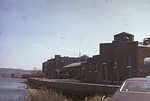 The Gair plant made boxes for well known products such as‭ ‬New Blue Cheer,‭ ‬Tide,‭ ‬and‭ ‬Wheaties‭ – ‬Breakfast of Champions,‭ ‬as well as their Egg-Safety cartons which were in great demand with the growth of supermarkets after WWII.‭ ‬But while the plant produced needed packaging for a growing economy and provided employment for many,‭ ‬working conditions were often bleak by today's standards.‭ ‬Enduring high levels of heat and noise,‭ ‬employees worked on machines that demanded constant attention,‭ ‬making‭ ‬600‭ ‬boxes per minute.‭ ‬Steaming vats of paper slurry and hot glue pots impacted the air quality.‭ ‬One source reports that the temperatures in parts of the plant could run as high as‭ ‬120-140‭ ‬degrees.‭ ‬There were no air quality standards in those days‭! ‬When it finally closed,‭ ‬a news article reported:

"‬the rooms in the old Gair paper mill on the Pier are enormous,‭ ‬dank and dangerous.‭ ‬Great empty concrete pits,‭ ‬where the block-long Fourdrinier machines once strained the water from paper pulp,‭ ‬gape under stained skylights three stories above.‭ ‬Pipes the size of sewer mains elbow through the concrete floor and end,‭ ‬open-mouthed,‭ ‬drooling a grey froth that has hardened into the texture of abandoned wasps‭' ‬nests.‭"
Historic Preservation Award
In‭ ‬1993,‭ ‬the Historical Society of Rockland County presented an Historic Preservation Award to the Piermont Commercial Corporation/Piermont Residential Corporation,‭ ‬subsidiaries of Chase Manhattan Bank,‭ ‬for‭ "‬their extensive efforts in preserving the Piermont Flywheel,‭" ‬saying that‭ "‬the overall impression‭" ‬created by the Flywheel,‭ ‬was‭ "‬of a free-standing sculpture,‭ ‬which pays constant tribute to Piermont's industrial heritage.‭"
More historic photos from the factory site:
Railroad approach to the factories, c. 1970s

Sheds at factory site with bales of paper (possibly destined for recycling)